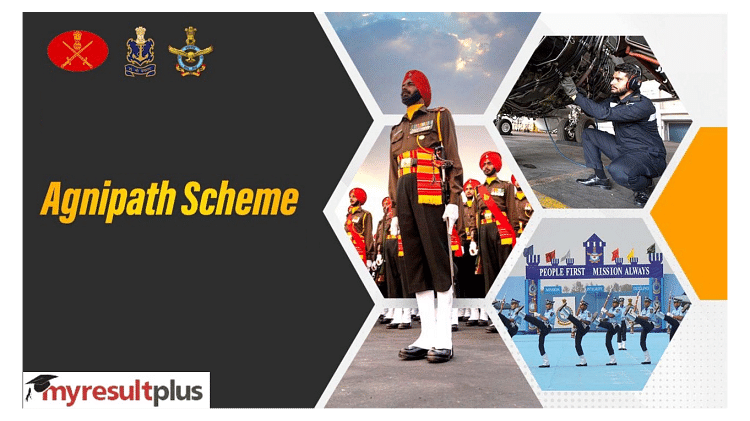 Agneepath Recruitment Scheme Army 2022
– PC : My Result Plus
Amidst the widespread protest in response to the newly Implemented Agnipath Recruitment scheme the Indian Army has released a Recruitment Rally notification explaining about the criteria and terms to become Agniveer. A candidate aspiring to join the Army can read the notification on the official website of Indian Army-joinindianarmy.nic.in
The notification released by the Army describes a salient feature of the enrollment as Agniveer. The candidates enrolled in the force will be governed by the Army Act, 1950 for a period of four years. Lastly, At the end of the 4-year program, Agniveer will be eligible for a Seva Nidhi, Agniveer skill ceritficate and a class 12 equivalent degree.
Here we have a list of all the important pointers mentioned in the note:
Eligibility Criteria:
Age limit: The candidate applying for the enrolment as Agniveer must be between the age of 17 ½ – 23 as on October 1, 2022. For the recruitment year 2022-2023, the upper age limit has been relaxed from 21 years to 23 years as a one-time measure
Educational Qualification:
Agniveer (General Duty) (All Arms)
Class 10th /Matric with 45% marks in aggregate and  a minimum 33% in each subject. 
Agniveer (Tech)
10+2/Intermediate Exam Pass in Science with Physics, Chemistry, Maths and English with 50% marks in aggregate and 40% in each subject. 
Agniveer Tech (Avn & Amn Examiner)
–same as above–
Agniveer Clerk / Store Keeper Technical (All Arms) 
10+2 / Intermediate Exam Pass in any stream (Arts, Commerce, Science) with 60% marks in aggregate and minimum 50% in each subject. Securing 50% in English and Maths/Accts/Book Keeping in Cl XII is mandatory. 
Agniveer Tradesmen (All Arms) 10th pass
(a) Class 10th simple pass
(b) No stipulation in aggregate percentage but should have scored in 33% in each subject. 
Agniveer Tradesmen (All Arms) 8th pass
(a) Class 8th simple pass
(b) No stipulation in aggregate percentage but should have scored in 33% in each subject. 
Selection Process
Under the Indian Army's Agnipath recruitment scheme, candidates will be tested on the basis Physical Fitness Test, Physical Measurement  at Rally Site, Medical Test and Written Test through Common Entrance Examination (CEE).
Salary and Fund
 
Agniveer will be paid a salary of 30,000 per month with an increment after every year. out of the total monthly salary  30% of the monthly income will be deducted and contributed to the Agniveer Corpus Fund on which the government will provide interest equivalent to that of the Public Provident Fund. On completion of their engagement period, they can redeem the accumulated funds plus an equal contribution from the government. 
Angiveer will not receive any kind of pension or gratuity from the Army. Moreover, they will not be eligible for Army Group Insurance Fund (AGIF) Schemes/benefits nor will they be eligible for Ex-Servicemen Contributory Health Scheme (ECHS), Canteen Stores Department (CSD) facilities, Ex Serviceman status and other related benefits after the completion of the service tenure
Release At Own Request: 
The recruits are not permitted to request release for duty before completion of the engagement period except in exceptional cases, with the approval of the competent authority.